Polycrystalline Diamond Compact PDC Cutter For Concrete and Asphalt Milling Bits
Product Detail
Product Tags
PDC Cutter For Concrete and Asphalt Milling Bits
1. What is PDC- Polycrystalline Diamond Compact?
PDC- Polycrystalline diamond compact is composed of polycrystalline diamond layer and tungsten carbide substrate, the polycrystalline diamond layer possesses extremely high hardness and abrasion resistance whereas the tungsten carbide substrate would greatly improve the malleability and weld ability of the whole composite, the polycrystalline diamond compost is used oil well drilling petroleum, geology exploring, coalfield mining and mechanical industry.
PDC cutters for geological mining field drilling bits series are designed for markets in the pursuing of cost. This series PDC are mainly used for producing anchor-shank drill bits, which are equipped with sharp edge, fast footage, high effectiveness, stability, economical and practical advantages.
2.  Specificaiton and Application of the PDC cutter 
PDC cutter for Coal Mining, Geological Exploration, Stone Processing, Road Milling
Model
0808, 1004, 1008, 1204, 1304, 1308, 1313, 1608, 1613, 1616, 1908, 1913,1916, 1919
1306, 1308
1305, 1308
Application
Making geological and coalmine drill bits for medium-hard rocks
Making geological& coalmine drill bits for soft rocks
Making geological& coalmine drill bit for hard rocks
Advantages
High wear resistance and impact resistance.
Faster rock breaking speed in soft rocks
Longer useful life, and High impact resistance in hard rocks
3. Other PDC Cutter Shapes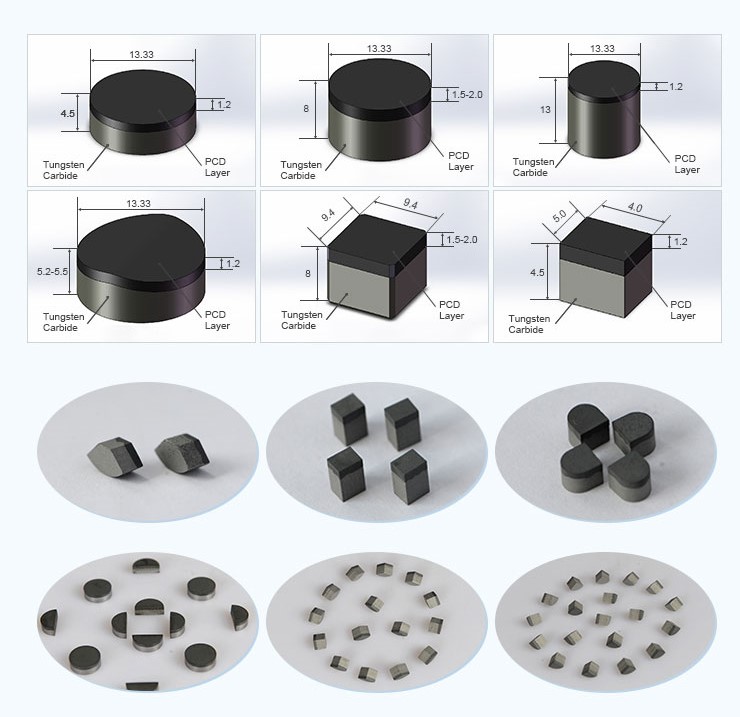 ---
---
Write your message here and send it to us