SND-G10 Yellow RVD Curshed Diamond Powder Resin Bond Superabrasives
Product Detail
Product Tags
SND-G10 Yellow RVD Curshed Diamond Powder Resin Bond Superabrasives
Synthetic Diamond Powder Introduction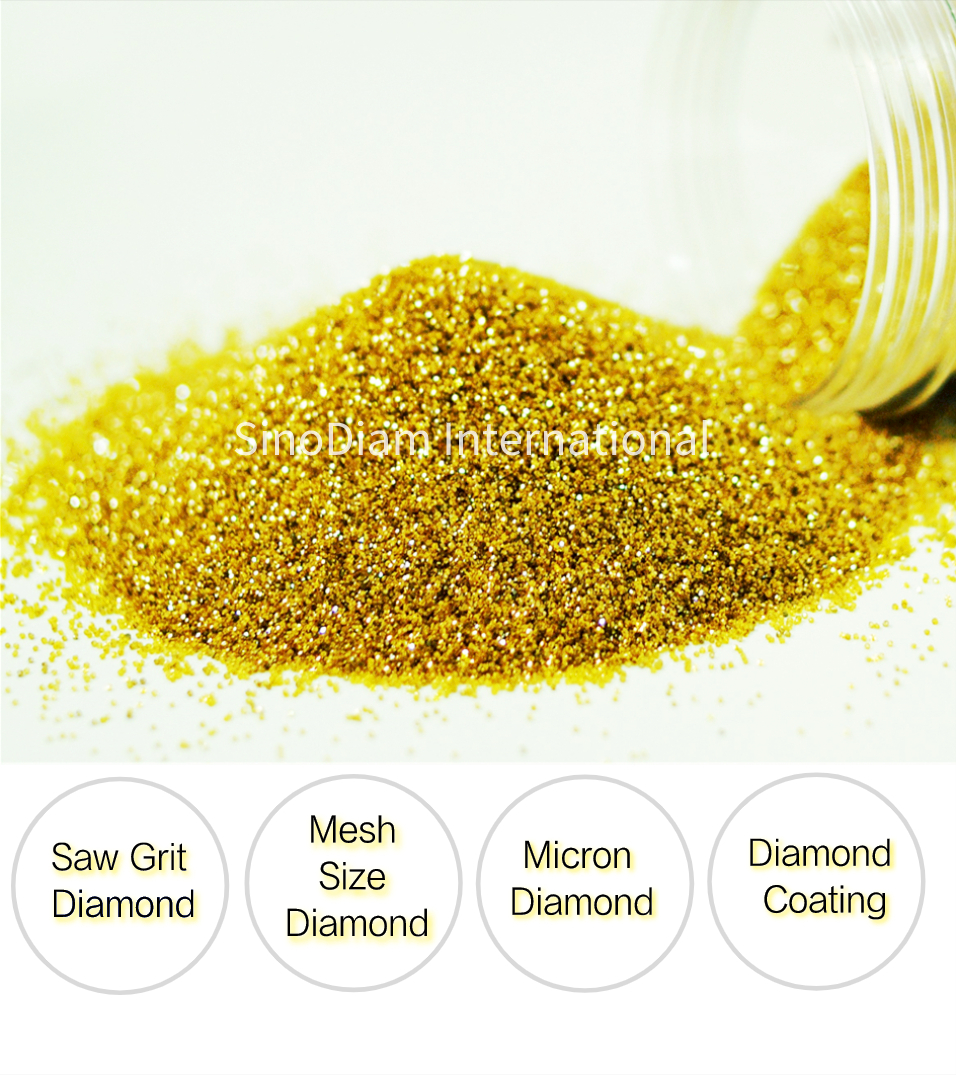 2. Character of SND-G10
Yellow color, irregular shape with a standard hardness, Applied in ceramic bonded, resin bonded and all kinds of electroplating products, for processing stones, hard alloy, magnetic materials, natural diamond, gem, etc
3. Crushed Diamond Powder Specification
SND-G05  50/60-325/400

SND-G10  30/35-325/400

SND-G15 30/35-325/400

Light green color, irregular shape 

with lower toughness. Widely 

used for processing stones, 

concretes, ceramics, etc.

Yellow color, irregular shape with a standard hardness, Applied in 

ceramic bonded, resin bonded 

and all kinds of electroplating 

products, for processing stones, 

hard alloy, magnetic materials, 

natural diamond, gem, etc

Yellow color, high hardness and

toughness. Applied in ceramic 

bond, resin bond and all kinds 

of electroplating products, can 

be used for heavy duty processing on carbide, glass, ceramics, stone 

and other non-metallic materials.
4. Available Grit Size
| | | | | | | | | | | | |
| --- | --- | --- | --- | --- | --- | --- | --- | --- | --- | --- | --- |
| | 30/50 | 50/80 | 80/100 | 100/120 | 120/140 | 140/170 | 170/200 | 200/230 | 230/270 | 270/325 | 325/400 |
| SND-G05 | X | √ | √ | √ | √ | √ | √ | √ | √ | √ | √ |
| SND-G10 | √ | √ | √ | √ | √ | √ | √ | √ | √ | √ | √ |
| SND-G15 | √ | √ | √ | √ | √ | √ | √ | √ | √ | √ | √ |
5. Other Grade and Mesh Size Diamond 
| | | | | | | | | | |
| --- | --- | --- | --- | --- | --- | --- | --- | --- | --- |
| | 80/100 | 100/120 | 120/140 | 140/170 | 170/200 | 200/230 | 230/270 | 270/325 | 325/400 |
| SND-G20 | √ | √ | √ | √ | √ | √ | √ | √ | √ |
| SND-G30 | √ | √ | √ | √ | √ | √ | √ | √ | √ |
| SND-G40 | √ | √ | √ | √ | √ | √ | √ | √ | √ |
| SND-G60 | √ | √ | √ | √ | √ | √ | √ | √ | √ |
---
---
Write your message here and send it to us